Browse our website…
Everyone can learn to play and enjoy Scrabble, regardless of age or abilities, at one of our many Scrabble Clubs throughout New Zealand. Learn Scrabble, find a local club,  enter a tournament,  check your rating  … and more!
---
14.04.2021  –  Overseas Scrabble competition is back. Yippee!
We can now announce the dates of the Trans-Tasman Challenge 2021 (formerly 2020). It'll be held in Canberra, 19–21 November. That'll be two whole years (!) since Kiwis were last involved in a face-to-face international.
New Zealand has 10 places to Australia's 16. Our selection will be based on the top 10 ranked players immediately after the Kiwi tournament, 7–8 August.
For those who don't make the cut but are still keen to play an international tourney, the WESPA-rated, open ACT Champs will be held the same weekend, in the same venue. Kiwis would be very welcome.
More details about both events to come. But for those feeling starved of top-level play or starting to plan their summer holiday, it's worth adding these dates to your calendar.
Howard Warner
---
Rosie Cleary was congratulated and presented with her Milestone badge for 2000 games at the Independents WOW Tournament on 30th January.
---
January 2021: The NZASP wish to congratulate Stanley Ngundi GM on achieving the status of Grand Master in 2020. This title is gained by attaining 5 separate post-tournament rankings in the top 10 over a 5 year period or 3 separate post-tournament rankings in the top 10 in the last 12 months. Stanley's achievement of gaining the title in such a short time is most impressive.
---
Lynn Wood was presented with a book voucher by Liz Fagerlund, for her valued service as past distributor of Forwords magazine, at the 'Nearly Christmas' Tournament, organised by Alastair Richards and Lyres Freeth, and held at Murrays Bay in December 2020.
---
A tribute to the late Simon Holdsworth.  25 June 1949 – 14 November 2020.
Simon was the patron of the Mt Albert Scrabble Club in the 80s and 90s. For many years, Thos Holdsworth and Sons (now Holdson) supported the club in many ways. Prizes of puzzles and games were provided generously every year. Tiles and Scrabble sets were made available. For this the club will be forever grateful.
Roy Vannini remembers these occasions well….. "always a smile and best wishes from him in all our dealings."
John Foster recalls a meeting with him to discuss sponsorship for the 3rd World Champs in 1995. After fully sponsoring the travel and accommodation for the first two World Championships this unfortunately came to an end with Mattel NZ taking over.
Jeff Grant recalls a lasting memory.
"During the first World Scrabble Champs in London in September 1991 the New Zealand and Aussie teams went out for dinner one evening at an exclusive restaurant featuring some very exotic dishes. We were joined by Simon Holdsworth and his wife, and everyone enjoyed a most entertaining meal and more than a few drinks. The prices weren't cheap though and some of us were wondering how much we would have to fork out. At the end of the night, Simon picked up the tab and paid the lot – over 500 pounds! It may have been 'business expenses', but still a very generous act and certainly my most enduring memory of Simon Holdsworth."
Lynne Butler recalled that night. She said she'll never forget her amazing salmon meal, quite something. The first and only time she had the pleasure of meeting Simon.
Providing the NZ Masters trophy, 'The Holdsworth Shield', was another one of his fine gestures, along with the usual stack of games and puzzles for both the Masters and the National tournaments every year. There will be many Scrabblers out there with a Holdsworth and Sons jigsaw puzzle or game in their homes as a result.
I, personally, have memories of meeting him round the company Board table while President of both the Mt Albert club and the NZASP.
A more professional and amenable person I have never met. Always so accommodating and helpful. A true gentleman.
Our thoughts go out to his family and all those involved with Holdson's as I know how much they respect and adore this man.
R.I.P Simon.
Glennis Hale
---
02 November 2020 – The Association received an email from Chris Lipe, Chairman of WESPA …
"It is with sadness that we must announce the cancellation of WESPAC 2021 due to the ongoing COVID-19 pandemic. In normal circumstances, preparations for the WESPAC, to be held in a year's time, would be well underway. Dates would be announced, venues and lodging would be arranged, and the qualification schemes for every member organization would be in full swing. Early entrants would be sending in their fees and booking their flights. In this difficult year, however, we have been unable to begin even initial planning. International travel will be highly uncertain for the foreseeable future and major populations of players in America and Europe are looking at dire rates of new covid cases and new lockdowns. Even if planning could occur on a contingency basis, domestic tournament play will be slow to resume in much of the world in 2021, making a fair qualification scheme for WESPAC impossible for member nations to implement. We look forward to Michael Tang's Alchemist Cup, scheduled for late 2022, and will move forward with the process to plan WESPAC 2023 when the time is appropriate. WESPA Member Nations should also note that the 2021 WESPA BGM will take place virtually in late 2021. Details about nominations for WESPA positions and attendance via Zoom will be sent out in the second half of 2021."
---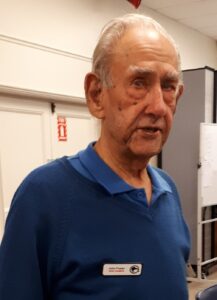 John Foster was congratulated and presented with his Milestone Badge for 3000 games by Liz Fagerland at the Mount Albert tournament at the Remuera Bridge Club on 10.10.2020. As always, it was a splendid weekend of competitive scrabble – much longed for by many members who missed out on tournaments that had to be cancelled this year. 
---
Thanks to Sue McRae, the Masterton Scrabble club will now launch on Wednesday, October 28, from 2-5pm, at the Masterton District Library, 54 Queen St, Masterton.
Contact Sue on 027 4490 601 or sue.mcrae.nz@gmail.com if you would like to join, and read her story in the Wairarapa Times-Age: https://times-age.co.nz/third-time-lucky-for-club/
---
05 October 2020: View Howard's opinion piece on the latest from the dictionary expurgation debate. This was published in the Dominion-Post (Wellington), in The Press (Christchurch) and on the Stuff news site: https://www.stuff.co.nz/entertainment/games/122960034/scrabble-squabble-over-offensive-words
Howard followed up by chatting with The Panel on Radio New Zealand: https://www.rnz.co.nz/national/programmes/thepanel/audio/2018766974/hasbro-looks-to-ban-hundreds-of-slurs-from-scrabble
---
20 September 2020: Clare Wall was presented with a beautiful potted orchid, in recognition of her hard work after her retirement as dedicated Webmaster and Executive member, at the recent Wellington tournament.
---
26 August 2020: Hastings Scrabble Club has now closed it's doors.
---
24 August 2020: Message from Howard Warner, President.
WESPA has met with all member countries (including New Zealand) to discuss Hasbro/NASPA's proposal for purging their dictionary of "offensive" words. All countries, as well as the WESPA dictionary committee, have voted overwhelming against expurgation in our dictionary/word list.
This view will be put to Mattel/Collins. In the meantime, our word list remains untouched.
---
Lyres Freeth was presented her Milestone Badge for 1000 games (1031 to date) at the recent Kiwi Tournament held in Hamilton. It was a good-sized tournament with 8 grades and over 60 players attending. Thanks to the Kiwi Club for their hospitality and a fabulous quiz night on Saturday.
---
On Thursday 13th August (5-8pm), the new Masterton Club will be launched at the Masterton District Library's new Learning Centre. Former Wellington player Sue McRae is organizing the new club, and we wish her all the best with the launch!
---
The Milestone Badges Awards were initiated by our President, Howard Warner, and were recently awarded at the Whangarei Scrabble Club, preceding their tournament on 04 July 2020.
John Foster, Rosemary Cleary and Lyres Freeth weren't present, so we would like to extend our congratulations to them, and they will receive their badges at their next tournament.
MILESTONES:
4000 games – Lynn Wood (4801 games)
3000 games – Betty Eriksen (3602)  Val Mills (3222)  Howard Warner (3189)  John Foster (3151)   
Glennis Hale (3072)  David Gunn (3068)
2000 games – Rosemary Cleary (2027)  Annette Coombes (2021)
1000 games – Lyres Freeth (1017) 
Lynn Wood receives her badge as does Betty and Val. Howard is presented with his badge,
and then does the honours for Glennis, David and Annette (below).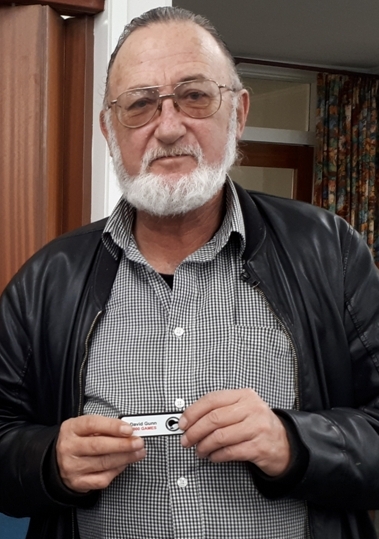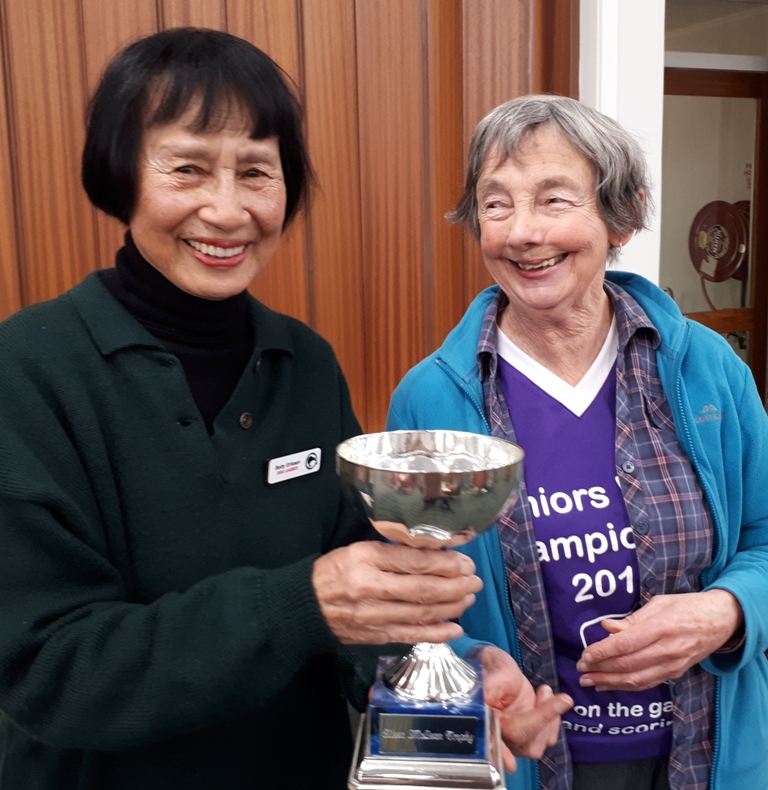 Betty Eriksen also receives the Eileen McLean trophy from Liz Fagerlund, for the person who has played the most number of tournament games in NZ from the first tournament post Nationals, up to and including, the following Nationals.
There were no Nationals this year, so up to the last tourney that was prior to that). It was very close this year with Betty pipping her rivals at 171 games. Congratulations again to all!
---
We received this message on 30.06.2020 from Michael Tang , the organizer of the Alchemist Cup – "Due to many uncertainties caused by COVID-19 pandemic, I am sorry to inform that Alchemist Cup 2020, which is supposed to be held from 2nd to 6th December 2020, will now be canceled. Please stay Safe and Healthy." A disappointing outcome, but a safe decision.
---
We are pleased to announce that Dylan Early has accepted an offer to join WESPA's Dictionary Committee. His breadth of experience and dedication will be invaluable. Congratulations, Dylan. The other Kiwi to serve on a WESPA committee is Liz Fagerlund (Rules).
---
The Collins Coalition are going to direct a Virtual Scrabble World Cup! For this tournament, teams of 5 players from 16 countries will compete in a bracket format. Keep up with their blog post for more information, and on the Virtual Tournaments web page. Registration closes very soon on July 5th. For players whose WESPA rating is not high enough to qualify as one of the top 5 players in their country, they are considering directing a companion CURE tournament in the next couple months if time is on their side. Until then, happy Scrabbling!
---
THE NZASP NATIONALS that were to be held traditionally on Queen's Birthday Weekend in June 2020 were CANCELLED due to Covid 19 lockdown requirements and will be rescheduled for same time in 2021. The good news is that we are back to Level 1 as from midnight on 08 June 2020 and NZ clubs can resume hosting their tournaments with no restrictions! Please contact your club secretary, or the NZASP secretary, Liz Fagerlund, for more info …  scrabbliz@kinect.co.nz
---
NZASP members can join SLACK to message and interact with other members, download forms, and read the latest announcements.
Learn how to USE SLACK HERE.
Email Clare to add you to SLACK scrabble.clare@gmail.com

For those people who aren't getting desktop notifications from Slack, it can be remedied by checking out the guide here SLACK desktop notifications
---
Ryman Healthcare and New Zealand Scrabble enjoy a close relationship.
Nationally, Ryman contributes to our two major national tournaments and our promotional efforts. Locally, clubs help out with Scrabble activities in villages and receive the villages' generous hospitality for tournaments. Read more on our Ryman page.
---
SCRABBLE® is a registered trademark of J.W. Spear & Sons, England (a subsidiary of Mattel Inc.) within New Zealand and the rest of the world (except North America). 
---
To contact NZASP, email scrabblenz@gmail.com