Browse our website…
Everyone can learn to play and enjoy Scrabble, regardless of age or abilities, at one of our many Scrabble Clubs throughout New Zealand. Learn Scrabble, find a local club,  enter a tournament,  check your rating  … and more!
---
26 August 2020: Hastings Scrabble Club has now closed it's doors.
---
24 August 2020: Message from Howard Warner, President.
WESPA has met with all member countries (including New Zealand) to discuss Hasbro/NASPA's proposal for purging their dictionary of "offensive" words.
All countries, as well as the WESPA dictionary committee, have voted overwhelming against expurgation in our dictionary/word list.
This view will be put to Mattel/Collins.
In the meantime, our word list remains untouched.
---
Lyres Freeth was presented her Milestone Badge for 1000 games (1031 to date) at the recent Kiwi Tournament held in Hamilton. It was a good-sized tournament with 8 grades and over 60 players attending. Thanks to the Kiwi Club for their hospitality and a fabulous quiz night on Saturday.
---
On Thursday 13th August (5-8pm), the new Masterton Club will be launched at the Masterton District Library's new Learning Centre. Former Wellington player Sue McRae is organizing the new club, and we wish her all the best with the launch!
---
The Milestone Badges Awards were initiated by our President, Howard Warner, and were recently awarded at the Whangarei Scrabble Club, preceding their tournament on 04 July 2020.
John Foster, Rosemary Cleary and Lyres Freeth weren't present, so we would like to extend our congratulations to them, and they will receive their badges at their next tournament.
MILESTONES:
4000 games – Lynn Wood (4801 games)
3000 games – Betty Eriksen (3602)  Val Mills (3222)  Howard Warner (3189)  John Foster (3151)   
Glennis Hale (3072)  David Gunn (3068)
2000 games – Rosemary Cleary (2027)  Annette Coombes (2021)
1000 games – Lyres Freeth (1017) 
Lynn Wood receives her badge as does Betty and Val. Howard is presented with his badge,
and then does the honours for Glennis, David and Annette (below).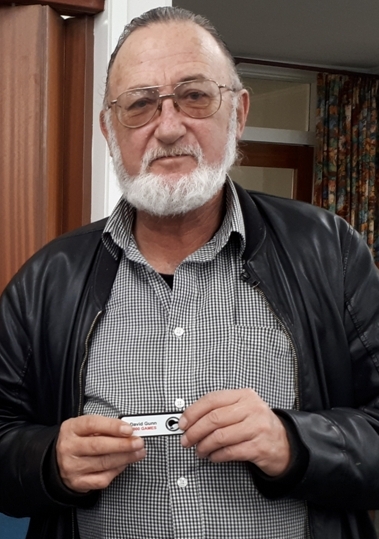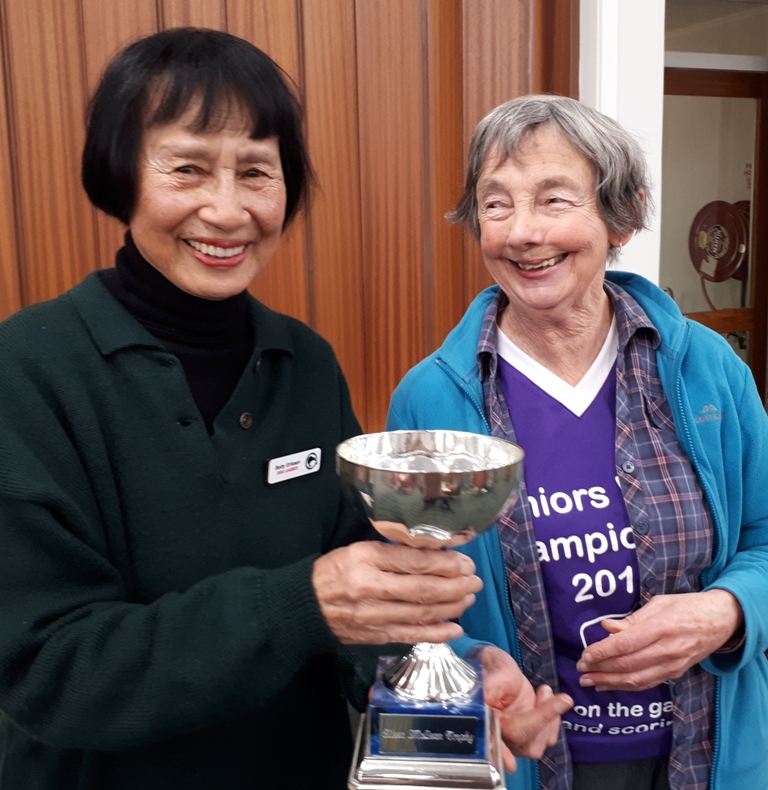 Betty Eriksen also receives the Eileen McLean trophy from Liz Fagerlund, for the person who has played the most number of tournament games in NZ from the first tournament post Nationals, up to and including, the following Nationals.
There were no Nationals this year, so up to the last tourney that was prior to that). It was very close this year with Betty pipping her rivals at 171 games. Congratulations again to all!
---
We received this message on 30.06.2020 from Michael Tang , the organizer of the Alchemist Cup – "Due to many uncertainties caused by COVID-19 pandemic, I am sorry to inform that Alchemist Cup 2020, which is supposed to be held from 2nd to 6th December 2020, will now be canceled. Please stay Safe and Healthy." A disappointing outcome, but a safe decision.
---
We are pleased to announce that Dylan Early has accepted an offer to join WESPA's Dictionary Committee. His breadth of experience and dedication will be invaluable. Congratulations, Dylan. The other Kiwi to serve on a WESPA committee is Liz Fagerlund (Rules).
---
The Collins Coalition are going to direct a Virtual Scrabble World Cup! For this tournament, teams of 5 players from 16 countries will compete in a bracket format. Keep up with their blog post for more information, and on the Virtual Tournaments web page. Registration closes very soon on July 5th. For players whose WESPA rating is not high enough to qualify as one of the top 5 players in their country, they are considering directing a companion CURE tournament in the next couple months if time is on their side. Until then, happy Scrabbling!
---
THE NZASP NATIONALS that were to be held traditionally on Queen's Birthday Weekend in June 2020 were CANCELLED due to Covid 19 lockdown requirements and will be rescheduled for same time in 2021. 

The good news is that we are back to Level 1 as from midnight on 08 June 2020 and NZ clubs can resume hosting their tournaments with no restrictions!

Please contact your club secretary, or the NZASP secretary, Liz Fagerlund, for more info …  scrabbliz@kinect.co.nz

NZASP members can join SLACK to message and interact with other members, download forms, and read the latest announcements.

Learn how to USE SLACK HERE.

Email Clare to add you to SLACK – scrabble.clare@gmail.com

For those people who aren't getting desktop notifications from Slack, it can be remedied by checking out the guide here SLACK desktop notifications

 
SCRABBLE® is a registered trademark of J.W. Spear & Sons, England (a subsidiary of Mattel Inc.) within New Zealand and the rest of the world (except North America). Within U.S.A. & Canada, Hasbro Inc (& Hasbro Canada Inc.) own all intellectual property rights to SCRABBLE® Brand Crossword game.
To contact NZASP, email scrabblenz@gmail.com