Media coverage
10.06.2023
Whangarei Scrabble club wins prize at Nationals
The Northern Advocate – Whangarei wins big

09.06.2023
NZ's 43rd National Scrabble champion
Times Online – NZ has a new Scrabble Champ
06.06.2023
Lyres Freeth wins the National title after long break from competitive scrabble
Scoop Independent News – Culture
02.06.2023
Howard Warner discusses the National Championship held this King's Birthday weekend in Auckland
RNZ – Who will be the Scrabble C-H-A-M-P?
30.05.2023
The 43rd NZ Scrabble Nationals are looming on King's Birthday Weekend
Stuff – Times Online – Who will wear NZ's Scrabble crown?
22.05.2023
Liz Fagerlund is interviewed about the upcoming 43rd NZ Scrabble Nationals
RNZ – The Panel
17.04.2022
Jeff Grant. the "Roger Federer of New Zealand Scrabble' wins the Masters for the ninth time
Stuff – Scrabble legend gets in last word yet again…
17.04.2022
Olivia En is interviewed at home about her Scrabble accomplishments
Stuff – Blind Scrabble Master
15.04.2022
Olivia En is interviewed by TV3 at the Masters, and Scrabble gets promoted for youth by participants
TV3 – NZ's only blind player is a Scrabble Expert
06.12.2021
29-year-old doctor at North Shore Hospital in Auckland, won a nail-biting finish in best-out-of seven matches
Auckland Scoop – NZer is World Champ in Scrabble
05.12.2021
Alastair Richards wins the first ever online Virtual World Scrabble Championship
RNZ – Kiwi spells S-U-C-C-E-S-S with world Scrabble title

NZer wins the Virtual World Championship which was organized by the Scrabble Association of Pakistan
24 News – New Zealand's Alastair Richards wins Gladiators' Virtual Scrabble World Championship
18.10.2021
24 Scrabble players from throughout the country attended the Dunedin club's tournament held at the Wyndham Garden hotel in Remarkables Park
Otago Daily Times – Lynn Wood helping to 'spread the word' in Queenstown
30.08.2021
Paul Lister talks about how Scrabble can help to stave off dementia
05.08.2021
Featherston Scrabble club's inaugural tournament kicks off in royal fashion
Wairarapa Times-Age – Right royal scrabble fun in Featherston
05.07.2021
NZASP President Howard Warner was spotted in this Stuff quiz.
04.07.2021
Alex Casey (daughter of Auckland player Cathy Casey) writes in The Spinoff about the three-day 2021 National Champs, which took place in Hamilton over Queen's Birthday Weekend
The Spinoff – A weekend with the super-brains of competitive Scrabble
01.07.2021
Ten teams of players from six schools take part in the Scrabble For Fun tournament in Dunedin
Otago Daily Times – Pupils scrabble for winning words
30.06.2021
Nick Ascroft concludes his two-part report on the woke debate in world Scrabble
Newsroom – Hate speech vs Scrabble: Part 2
29.06.2021
Nick Ascroft talks about the woke debate in world Scrabble
Newsroom – Hate speech vs Scrabble: Part 1
29.06.2021
Nick Ascroft is interviewed by Heather du Plessis Allan
Newstalk ZB – Top NZ Scrabble player pushes back against Mattel's planned 'slur' cull
18.06.2021
Tony Charlton makes the news after Hamilton accommodation for the Nationals goes awry
Stuff – AirBnB booking mix-up at Scrabble National Champs
29.06.2021
Howard Warner talks with Kerre McIvor about game owner Mattel's decision to remove "slur words" from the Scrabble dictionary
Newstalk ZB – Should you be able to swear during a harmless game of Scrabble?
21.06.2021
Queenstown local picks up a couple of prizes in the National Champs in Hamilton
Mountain Scene – Tara scores a double
08.04.2021
The top 24 players in the country descend on Tauranga over Easter for three days of masters-level Scrabble
Sunlive – Scrabble mastery in Tauranga
07.01.2021
Scrabble is the latest focus of the regular Welcome to the Club series
Whanganui Chronicle – Welcome to the Club: Whanganui Scrabble Club
15.10.2020
How cool to see Nigel Richards and Jacinda Ardern placed on the same level, as people who the rest of the world has heard of
Yahoo! News – Kiwis, scrabble and shearing: five things about New Zealand
14.10.2020
Sue McRae was all set to launch the Masterton Scrabble Club when the country went into COVID lockdown, but she kept trying
Wairarapa Times-Age – Third time lucky for club
05.10.2020
Howard Warner talks on air with The Panel about North America's Scrabble dictionary expurgation plan
Radio NZ: The Panel – Hasbro looks to ban hundreds of 'slurs' from Scrabble
05.10.2020
"Players are resisting moves by the game's US owners to cull almost 300 'offensive' words" – an 'op-ed' or guest editorial by NZASP president and international competitor Howard Warner
Dominion Post, The Press & Stuff – Scrabble squabble over 'offensive' words
14.07.2019
Whangarei collects Team Prize at the Nationals
Whangarei Advocate & NZ Herald – Yowza! Whangārei Scrabble team scores well out on the tiles.

07.06.2020
The organisers of the first ever Virtual World Cup of Scrabble give a shout-out to Kiwi Howard Warner (among others) for helping to make this event a reality
cocoscrabble.org – Getting underway at the Virtual World Cup
16.06.2019
Who is this Scrabble player that all other players are so in awe of?
ESPN, India – Nigel Richards: The Scrabble legend with few words to say but plenty to play
05.06.2019
Poet and Scrabble tragic Nick Ascroft tells the tale of his National Champs
Newsroom – Dopiest, dewiest, eggiest: our man at the Scrabble champs (by Nick Ascroft)
29.05.2019
How do Nick Ascroft and others prepare for tournament play?
Newsroom – How NZ's 20th best Scrabbler gets in shape (by Nick Ascroft)
21.04.2019
Alastair Richards and Lyres Freeth, ranked 1 and 3 in New Zealand, came together through Scrabble – four years later they are married and opposing each other in the NZ Masters
Whanganui Chronicle – Powerhouse couple brought together by the game participate in New Zealand Masters Scrabble Tournament in Whanganui
20.04.2019
NZ's top 24 Scrabble players gather in Whanganui for the elite NZ Masters tournament, sponsored for the first time by Ryman Healthcare
Whanganui Chronicle via Whanganui High School News – Wizards of wordplay gather in Whanganui
11.03.2019
"The great jandal scandal" – Howard Warner spends half an hour chatting with host Jesse Mulligan and answering questions from the public in Radio NZ's 'Meet the expert' slot
Radio NZ – Expert on Scrabble
10.02.2019
Prominent Auckland city councillor Cathy Casey writes about her guilty passion outside of politics: Scrabble
The Spinoff – Bingeing on a triple-triple: True confessions of a Scrabble addict
19.12.2018
Wellington's Dylan Early takes out the Trans-Tasman Challenge title, ahead of the best players from Australia and New Zealand
Otago Daily Times – Adroit use of 'android' wins Scrabble tourney
15.12.2018
'Not Dead Yet', a series celebrating "the many older people in our community defying their years to do amazing things", shines a spotlight on Christchurch's veteran Scrabbler Shirley Hol
The Press & Stuff – Scrabble queen Shirley Hol reigns supreme
29.11.2018
This English-language teaching resource compiles a complete lesson around the exploits of Kiwi Scrabbler Nigel Richards on the world stage
Engoo (Turkey) – World Scrabble Champion Wins Again
16.11.2018
Preview of the biennial Trans-Tasman Challenge being held in Dunedin for the first time, and featuring the 12 best Scrabble players from each of New Zealand and Australia
Otago Daily Times – Scrabbling to claim title
30.10.2018
Our own Nigel wins his fourth World Champs title
Stuff – Kiwi Nigel Richards wins World Scrabble Championship title for fourth time
29.10.2018
The world gushes over Nigel Richards, now indisputably the world GOAT (greatest-of-all-time)
Newshub – NZ Scrabble master brings home fourth world title
Quartz – The world's best Scrabble player just broke yet another record
New York Times – Scrabble's World champion Masters the Tiles in 2 Languages
The Guardian – 'Groutier': sulky word gives New Zealander fourth world scrabble title
SBS News – NZ man wins scrabble championship with 100-point word
24.10.2018
New Zealand's Scrabble purists react to a mock-Scrabble product that game manufacturer Mattel has cynically aimed at the Christmas sales market
The Spinoff and Newshub – War of the Words: why the new Kiwi Scrabble edition has Scrabble fans furious
23.07.2018
The day after 9-year-old Lewis Hawkins won the $10,000 AMP Scholarship in 2013, he flew out for three weeks of tournament in Thailand, Prague and Dubai
Stuff – Backyard Banter: AMP Scholarship boost to Lewis Hawkins' scrabble game
13.03.2018
Two-time World Senior Champ Howard Warner reveals his thoughts on how Scrabble changes at the highest levels of competition, and why the professional world needs to unify
Urbo – Tilin' Out: A Conversation with a Champion Scrabble Player
31.1.2018
Nelson Scrabble Club convenor Tony Charlton on why he loves Scrabble and why it's such a great game
Nelson Mail & Stuff – Memory boost from the game of life
24.11.2017
Inside the arcane world of the Scrabble World Senior Championship
New Zealand Herald — Strategy and wonderful words at the Scrabble World Champs in Christchurch
NewstalkZB (interview) – Woman spells her way to top at Christchurch Scrabble championship
TV1 News – 'My lucky earrings': world senior scrabble champ says her scrabble tiles earrings did the trick
23.11.2017
"The room may have been almost silent, but the words were flowing thick and fast at the 5th World Annual Senor Scrabble championship, held in Christchurch"
The Press & Stuff (video) – Scrabble sharks scramble for supremacy in Christchurch
21.11.2017
Paul Lister, tournament director of the World Seniors Championship in Christchurch, chats with Jesse Mulligan about all things Scrabble
Radio NZ (interview) – The World Seniors' Scrabble Championship
Sydney-based Kiwi Joanne Craig talks with Lisa Owen ahead of the World Seniors tournament on her home soil, and went on to win the title after this interview
Magic Radio – Kiwi to compete in world Scrabble championship
27.10.2017
First it's the Senior World Champs, and then the NZ team will be selected for the World Scrabble Championship in Nairobi, Kenya
Scoop – World's top Scrabble seniors to play in Christchurch
NZ Herald – NZ debuts as World Seniors Scrabble Championship host in November
18.07.2017
What makes Scrabble such an addictive game?
Stuff – Whangarei club hosts national Scrabble competition
02.02.2017
Rodney club started by Gerald and Anne Warner back in the'90's
Rodney Times – Scrabble club going strong after nearly 30 years
08.11.2015
Three Kiwis (Anderina McLean, Nigel Richards and Joanne Craig) feature prominently in this account of the World Scrabble Champs in Perth
The Guardian Australia – Nigeria's Wellington Jighere almost lost for words after Scrabble world title triumph
28.08.2015
Literacy advocates waylay Wellington commuters to play a few turns on a giant Scrabble board laid out on the floor of the central railway station
Scoop Education – Celebrate International Literacy Day with a Giant Game of Scrabble
29.07.2015
The Rumanians are fascinated with Nigel's feats too
Begin English (Rumania) – Man Memorizes, French Dictionary to Win French Scrabble Tournament, Does Not Speak French
22.07.2015
Not content with winning the top title in English-language Scrabble, Nigel stuns the world by doing it in French too
DW – Non-French speaker wins French-language Scrabble world championship
NZ Herald – Kiwi Nigel Richards wins French Scrabble contest, doesn't even speak French
BBC – New Zealand's Nigel Richards wins French Scrabble crown
NPR – Winner of French World Scrabble Title Does Not Speak French
– Many other repetitions of this story from around the world, including Singapore, the UK, Germany, Ireland, the Czech Republic, Switzerland, the US and Canada.
24.02.2015
Christchurch's Lewis Hawkins,10, learnt to play Scrabble following the Christchurch earthquake, and now he is world class
The Nelson Mail & Stuff – Lewis Hawkins, the Scrabble maestro
06.09.2014
Howard Warner, who has just completed the best week of his competitive Scrabbling career, says working with words isn't the advantage you'd think
Stuff – Turning letters into triumph at Scrabble marathon
29.08.2014
New Zealand's Howard Warner reigns supreme against the world's best 55-plus players, winning 16 matches out of 20
Dawn (Pakistan) – Warner clinches title at World Senior Scrabble
08.08.2014
The heading speaks for itself
FiveThirtyEight – What Makes Nigel Richards The Best Scrabble Player on Earth
23.06.2014
"One of the most notable players here at the tournament is New Zealand's Lewis Hawkins"
Felix (UK) – Scrabble world championship 2014: Grudge Match against an 8-year-old
Autumn 2014
Forwords, pp10-21 – New Zealanders on the International Stage:
Scrabble Champions Tournament, contributions from editor Val Mills, Nicholas Cavenagh, Joanne Craig, Lynley Jenness and Howard Warner
WESPA biennial meeting, report by Howard Warner
International Youth Princess Cup, Bangkok 2013, report by Lynley Jenness
Forwords – Autumn 2014
06.12.2013
New Zealanders (Peter Sinton, Nic Cavanagh, Howard Warner, Blue Thorogood) were among the players who beat Guyanan national champ Abigail McDonald at the World Champs in Prague
Kaieteur News (Guyana) – World Scrabble Championships … McDonald delivers lukewarm returns in two days of intense competition
30.08.2013
Dunedin's Scrabble For Fun tournament has educational benefits too
Otago Daily Times – Scrabble boost for learning
04.08.2013
8-year-old Lewis Hawkins talks about why he loves Scrabble and what you have to do to be really good at it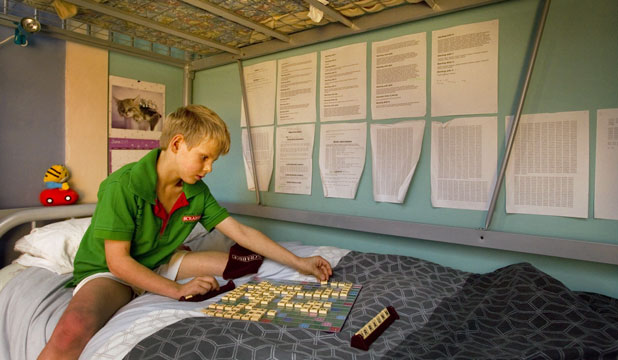 Photo Credit: John Kirk Anderson/FAIRFAX NZ
YouTube – HotShots: Lewis Hawkins
02.07.2013
Jesse Mulligan interviews Blue Thorogood, the new national champ
Radio NZ – Scrabble champ
30.06.2013
Blue Thorogood, the 51-year-old driver of hazardous chemicals by day loves beer, fags and Scrabble by night
The Press & Stuff – The man who swallowed a dictionary
08.04.2013
PERSPICACIOUS: Eight-year-old Lewis Hawkins has qualified to represent New Zealand in the 2013 World Scrabble Championship
Stuff – 8 year old beats adults
03.04.2013
Dunedin's Alex Leckie-Zaharic, 12, is the youngest player to compete in the elite NZ Masters Scrabble tournament in its 30-year history
Otago Daily Times – Now it's time for a word from young master Alex
31.03.2013
12-year-old Alex Leckie-Zaharic is the youngest player ever to qualify the National Masters Championship, in Whangarei
Sunday Star-Times – Alex not lost for words in Scrabble champs
17.12.2012
Alex Leckie-Zaharic is the second best under-12 Scrabble player in the world
Otago Daily Times – My word! Dunedin boy shines at Scrabble word champs
30.6.2012
Being blind is no hindrance to spirited Scrabble competitor Olivia Godfrey, of Palmerston North
Sunday News – Blind Scrabble player Olivia has a brilliant touch
13.02.2012
Former woodwork teacher Tim Henneveld rises to the challenge of making a Braille Scrabble set for Olivia Godfrey
Rotorua Daily Post & NZ Herald – Tim's vision creates Braille Scrabble board
25.10.2011
Whanganui Chronicle – Scrabble Stars as good as their words
31.08.2011
NZASP secretary Liz Fagerlund has been hooked on Scrabble since childhood
NZ Herald & The Aucklander – Under a spell
10.07.2011
The word "jandal" gets banned much to the shock and horror of NZ Scrabble players
Stuff – Scrabble jandal scandal
19.06.2011
Introducing 10-year-old Scrabble whizz Alex Leckie-Zaharic, of Dunedin
Otago Daily Times – To Alex, words are alpha, you bet
26.12.2010
Nigel Richards takes on the other nine former World Champions in the one-off 'Tournament of Champions' in Malaysia and triumphs with two games to spare
Stuff – Kiwi of few words crowned best Scrabble champ
November 2010
New Zealander Howard Warner, a founding member and Communications Committee chair of the World English-language Scrabble Players Association (WESPA), pens the first of a new column about international Scrabble matters
WESPA website – WESPA Whispers, Issue 1
03.09.2010
Literacy Aotearoa Wellington is hosting a public game of Scrabble in Cuba Mall for International Literacy Day
Scoop Education – Wellington's Largest Ever Game of Scrabble
20.08.2010
More than 150 Dunedin schoolchildren compete at the public library, for coveted places in the upcoming World Youth Championships
Otago Daily Times – Schoolchildren Scrabble for positions
07.06.2010
The National Scrabble Champs in Hamilton has just finished, and new champ Lynne Butler talks about what makes Scrabble "sexy"
Waikato Times & Stuff – War of words ends with a new champ
06.06.2010
The most complete profile ever of Scrabble legend Nigel Richards – despite the writer not talking to the man himself
Sunday Star-Times – A way with words
25.05.2010
The Hennevelds of Rotorua have built a life around the mutual love of Scrabble
Rotorua Daily Post – Scrabble becomes couple's way of life
08.04.2010
Coverage of the NZ Scrabble Champs in Christchurch, ahead of a reported major change to the world Scrabble dictionary
The Press & Stuff – Scrabble gurus lost for words
November 2009
Article written for the NZ Association of Gifted Children's newsletter, by Howard Warner, on why Scrabble is such a great educational tool
Tall Poppies – Scrabble: the ultimate brain sport
24.08.2009
Local players hold their own against the star out-of-towners at the Whangarei Scrabble Tournament
Whangarei Leader – Word's out on winners
31.01.2009
The host of newly introduced allowable words are the hot topic of conversation at the Hamilton Scrabble tournament
Waikato Times – Slang make them sic at Scrabble showdown
31.01.2009
How New Plymouth's Lynne Butler has been preparing for the World Scrabble Champs
Taranaki Daily News & Stuff – 'Word-nut' ready for world event
31.07.2008
Nigel Richards wows the Scrabble world by taking out his third North American Champs title, after winning both the World Champs and British Open earlier in the year.
NZ Herald – Three Scrabble titles for Kiwi world beater
30.07.2008
"A New Zealand scrabble player created history overnight…"
Otago Daily Times – NZer first to hold world's top three scrabble titles
22.10.2007
NZ reps to the upcoming World Champs hone their skills at the Wanganui Scrabble Club's annual Labour Weekend tournament
Whanganui Chronicle & NZ Herald – Blindness no barrier to Scrabble player
2005
A report of the first ever classroom research project into the benefits of teaching Scrabble to adult ESL students -Scrabble unscrabbled: adult ESL students' perceptions of Scrabble as a classroom learning tool by Howard Warner and Pascal Brown