How we play Scrabble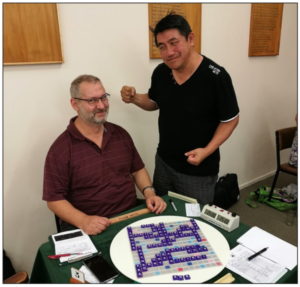 Standover tactics are not recommended! (Howard Warner and Lawson Sue after Howard made a record-setting score of 752)
Organised Scrabble is a little different from the 'kitchen table' Scrabble most of us start off playing. This is what to expect if you decide to head along to a club.
We only play one on one. At a club it's common to play without time limits, however if you decide to enter a tournament, each player has 25 minutes to make all their moves (timed using chess clocks). We use rotating boards with ridges that hold the tiles in place as the board moves. Clubs usually have all the boards, tiles and other supplies on hand so you don't need to bring your own.
We use Collins Official Scrabble Words 2019 as our word authority. Games are usually played without referring to word lists (some allowances may be made for new players). If your opponent plays a word you're not sure of, you can challenge it. If the word turns out to be correct, your opponent adds 5 points to their score. If the word is incorrect, your opponent loses their turn. It's cheap to challenge – don't be afraid to!
Some clubs organise competitions and ladders for their members. Others are more casual. You'll find players of all abilities. Skilled players are happy to play new members as we all started in your shoes once.
If you want to improve, start learning the short words. After a few months of playing, all players should know the 2 letter words. After those, try to learn as many of the 3s and 4s that you can. There are many word lists that can help you get the most out of your tiles – check some out here.
If you want to challenge yourself, start entering tournaments. Most tournaments in NZ are open-entry. You'll play others at the same level as you, and as you get better, you'll move up the grades. Tournaments are a great way to meet players from all around NZ – and the world! Many overseas tournaments are open-entry too, and especially welcome international Scrabblers.
Contact a club organiser near you to find out more about what they can offer you.